· 5 min read
An Ethnography of Jungle and DnB in 90s/00s Video Games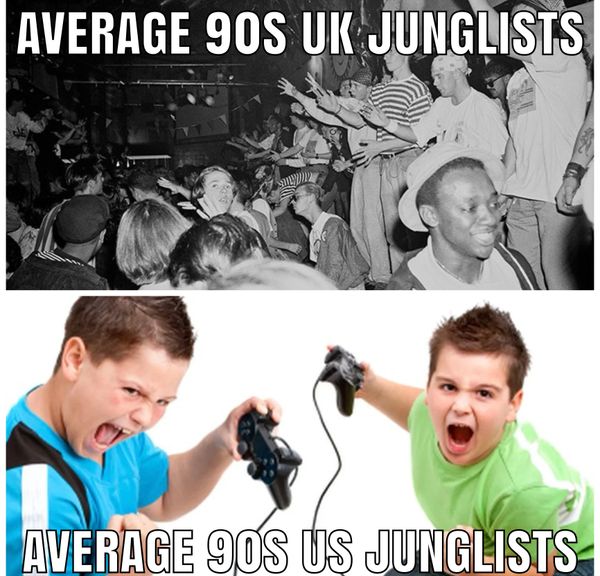 Written, Produced, and Translated by Jonas Martinez
The year is 2023. Raves are back. Low polygons are cool again. The world still sucks. It is only natural that video game soundtracks inspired by the Jungle and DnB club scenes of the Y2K era are what you should be listening to in these seemingly accelerated times.
In this report, we will be covering the trend of original soundtracks from the early 3D video games that had their foundations in the Jungle and DnB club music of those years. We're talking high BPM video game music from the PS1/Nintendo 64 generation, but the trend continued all the way up through the mid 2000s. This type of music was popular in racing games such as Ridge Racer, Wipeout, and Gran Turismo; I will be bringing you some deeper cuts that might have slipped under the radar of the times.
Often atmospheric in nature because it's video game music meant to accompany a virtual space, these game soundtracks exemplify what it sounds like when video game music and club music cross paths.
Stick around till the end for some of the DJs and curators responsible for bringing this music back and circulating around the YouTubes and Bandcamps, and soon, to local shows near you?
UPDATING THE SOUNDS: WHEN VIDEO GAME MUSIC OUTGREW VIDEO GAMES
Hideki Okugawa - Street Fighter 3: Third Strike (1999)
One of the most classic and recognizable fighting games of all time. A pretty hardcore game in both gameplay and presentation. I picked Street Fighter III: Third Strike as the first example because it draws the perfect line in the sand for when video game music stopped being just video game music and it started sounding like anything else you would hear at the club during those times.
While Akuma's theme song on 2nd impact is pretty good fighting game music, it actually does NOT make the cut for the type of music we're looking for today. The updated theme song for Akuma in Third Strike contained heavier elements of jungle and drum and bass, while also being more iconic to the character. Check out Akuma's theme in Third Strike, Killing Moon:
The soundtrack for all three Street Fighter III iterations were composed by the same person, Hideki Okugawa. Being a member of the Capcom Sound Team for many years, he also worked on the Darkstalkers, Resident Evil, and Dead Rising franchises. Real Capcom OG.

Soichi Terada - Ape Escape (1999)
The problem is that when video games went from 2D to 3D, the established concepts of game design were turned upside down. The music needed to reflect the novelty of the new millennium. The PS1 was the first console capable of delivering CD Quality audio to video games, as it was the first video game console to utilize a CD drive. The stage was set for video game composers to bring in music that is not restricted to a cartridge's individual sound chip, which often limited game scores to rudimentary waveform synthesis rather than high fidelity recording.
With the release of his 1996 album, Sumo Jungle, under his own label, Far East Recording, Soichi Terada was already an accomplished member of the Japanese club music scene when he got the gig for Ape Escape. He had a habit of going Jungle, DnB, and House music shows until he found inspiration for sounds he wanted to recreate for the game. Time Station is a great example to represent the emerging sound of this era:
Soichi Terada's work for Far East Recording and Ape Escape has earned him a resurgence in recent years. With new shows and new music being released, check out his latest album from 2022, Asakusa Light.
June Chikuma - Bomberman Hero (1998)
My favorite composer of this type of video game music is June "CHIKI" Chikuma. She is responsible for the BANGING soundtrack to most of the early Bomberman series, with Bomberman Hero OST being the creme de la creme when it comes to video game Jungle/DnB. Bomberman Hero is not the most popular game for the N64, but the soundtrack has earned a cult following and more people have started to recognize June Chikuma's unique body of work.
Fun Fact: June Chikuma studied many different styles of Arabian music composition, and maintains the website arab-music.com, in which she keeps a log of all the music she has done for the Bomberman games.
June Chikuma's music has also earned her a resurgence in recent years. There's been repressings of various Bomberman soundtracks, and she recently released an original album in 2022 titled "The Midas Touch".
MOVING ON TO CURRENT TIMES: THE MODERN DAY RESURGENCE OF VIDEO GAME JUNGLE AND DRUM AND BASS. AKA: THE LOW POLY MUSIC SCENE
As it often happens in pop culture, the nostalgia for better times makes us listen to older music in a new way. We are noticing a community of artists, DJs and curators defining the boundaries of the sounds that make up this modern resurgence of the genres. With any emerging group of artists playing around with the same library of sounds, a scene of fans is sure to follow.
Keep up with the program and follow these channels that are making this era of VGM music accessible and fresh again.
Nintendo 64 jungle mix 01 - Drum & bass, liquid funk, jump up, neurofunk, darkside, etc
This is the video that successfully captured the YouTube algorithm and made everyone turn their heads at how great the music of that generation of gaming was. Netting over a million views, the massive comments section serves as proof that there is a market for this type of music. Check out Ryland Kurshenoff's Youtube channel for more console-specific mixes.
PlayStation 1 RAVE MIX | Video Game Music DJ Set
dedeco's VGM DJ sets are a pure delight to see. Accompanied by video game visuals to match the game soundtracks being played, all the tracks are smoothly curated to create ~a vibe-, with themed mixes based on specific franchises. or mixed trying to achieve a specific mood. This PS1 Rave Mix is one of the stronger sets. It shows us what it sounds like video game music and rave music are a pure hybrid. The caption commentary in his videos are an incredible resource filled with interviews with the original composers and fun facts about the game soundtracks being mixed.
Pizza Hotline - LEVEL SELECT
LEVEL SELECT is a clear indicator of where the jungle and DnB video game music resurgence is headed. Pizza Hotline is creating completely original music directly inspired by the PS1 era video game soundtracks.
Atmospheric, dreamy, with both samples and synths; it helps me imagine a future where the vaporwave kids and the rave revivalists join forces to bring back the breakbeats of the Y2K years.
Aaand that's it for this special segment for KLANG magazine on the history and trajectory of Jungle and DnB video game music. There is still plenty more to talk about on this subject, we haven't had a chance to mention the massive influence that the Wipeout series had on video game music, or on the Funky Fresh Beats side of this conversation with Jet Set Radio and Persona, or how Super Mario 64 was already adopting these high bpm drumbreaks as an N64 launch title.

But for now, that's all the time we have!

---
Jonas Martinez (@lolraid on all social media) is an aspiring artist, fighting game legend, overall productive person from Levittown, Puerto Rico who is trying to archive his extensive knowledge of music that no one remembers. His agenda is to create a healthier culture on the internet outside of social media and profit-driven websites.

Jonas sabe la diferencia entre una empanadilla y un pastelillo. Tal vez lo conoces como: Raid, Honda Tropical, El Abogado, El Capitán, etc etc. Hoy en día se la pasa jangeando en algún boquete por ahi en Austin, TX. Su proposito es tratar de preservar toda la musica de la que nadie se acuerda. Su agenda es que sueltes el jodio telefono ese y salgas pa fuera a tocar grama.