· 4 min read
Diasporic Bridges: Teiku on Channeling the Shtetl Through Creative Music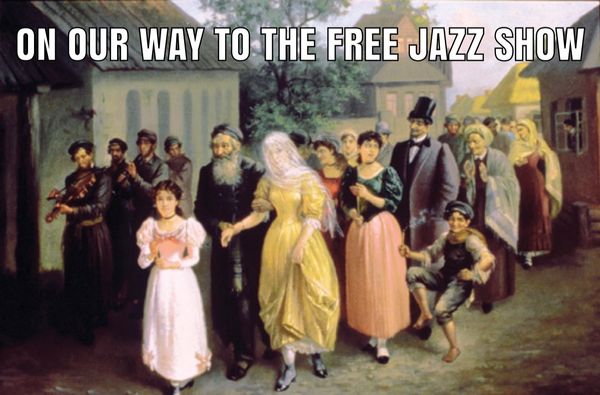 Written by Izzy Yellen
---
Teiku (a Talmudic acronym meaning "unanswered question") is a Creative Music and Jazz band that reframes ancestral Jewish melodies unique to various families and communities. Co-leaders pianist Josh Harlow and drummer Jonathan Barahal Taylor built the project on the foundation of their Ashkenazi-Ukranian ancestors' Passover songs – songs specific to each respective family that have been passed down aurally since their emigration. With these simple vocal melodies as source material, Teiku spins together multi-layered compositions and improvisations that feel right at home in a Creative Music environment, both sonically and spiritually. Creative Music involves the continuous processes of self-interrogation and reflection in the search for truth, of recognizing inspiration, and sharing those processes with others through art in order to express love. The band pulls from that tradition, also introducing their perspective as Jewish-Americans in today's world.
With this article comes the premiere of the music video for "Adir Hu," an interdisciplinary collaborative work that brings together music, dance, visual art, video work, and animation. The video can be watched below.

This video achieves some of what Teiku strives for, namely 1) bringing together unique identities and practices to create something larger than themselves and 2) bringing that which has come before them towards the unknowable future, while creating art that makes sense to them and empowers them.
With this video, Teiku creates a communal gestalt – a tenet that also grounds their musical practice. I imagine it like a fractal - a repeating and expanding pattern of imagination and communal relationship: It begins with the distinct Jewish-Ukranian communities that first sang the melodies. These two communities became part of the fractal when Josh and Jonathan shared their family's melodies with each other. Other communities become part of the pattern through their melodies. From a wider lens we can see this already complex fractal pattern overlap and intertwine with elements of Creative Music and other Black music. The pattern zoomed out at this point can be labeled Teiku. And when we finally look at the entire fractal body, we see Teiku creating something even more complex with the artists that contributed to this video (all of which who have their own fractals).
The unique identities in the video's case came from Jessi Gaston (video concept and editing), Carlos Salas (his own ARTurito Kahlo Neural Network 3D visuals), Ben Klausner (2D visuals), Rachael Ahn Harbert (movement and choreography), and Jonathan (movement filming). Add these identities to the band's collective and individual identities and you have a multidimensional conversation that often transcends its singular facets. Jessi shared this approach to editing it all together; "The material everyone else provided me with determined everything I did. I just made the connections between them visible." As humans, we tend to understand each other a lot more than we think, and Jessi conveyed that beautifully with the final piece.
Teiku's movement towards an unknowable future concerns two continuums – Jewish culture and Creative Music (the latter being an integral part of the Black cultural arts). Both bandleaders' relationships to Judaism informed how and what Teiku plays. Josh's religion-centered, insular upbringing was at times totally immersive, at times difficult, and often, somewhere in between. In Teiku, he is able to have more of a say in how he engages with Jewishness. For Jonathan, who often viewed engagement with his Jewish culture as extra school and had a harder time pinpointing what it is and how it affects him, Teiku is a place where his relationship with his heritage is deepened and strengthened. For both of them this clarification highlights the importance of maintaining, spreading, and enriching diasporic traditions.
Teiku as a band archives and preserves not only the melodies they play, but also their complicated relationships with Judaism – relationships that are fairly representative of many other American Jews of their generation. These are some of the listeners who tend to really resonate with their performances (I know I'm one of them) and that's in part because of the representation they provide. Teiku is a reaction to mainstream Jewish institutions that may feel homogenous, a platform and a voice that can help others struggling with their relationship to Jewish-ness feel seen and heard.
As much as Teiku archives and preserves sentiments related to Jewish-ness, they also do the same, albeit in a very different way, with Creative Music and Jazz. They recognize that they are guests in these traditions, revere and honor the heroes of that music, and make a concerted effort to pay forward to a creative continuum that has provided them with so much. To Teiku, the art they create is something of a cultural exchange, and they draw parallels in their own experiences. Much of Creative Music and Jazz is about learning from elders and with their music, Josh and Jonathan bring their own elders into the mix, honoring their own ancestry in addition to the lineage they have learned from.
The parallels continue with all the music that was part of their upbringing. While they were raised singing their old family melodies, they were also studying and emulating art of their musical elders: musicians like Thelonious Monk, Milford Graves, John Coltrane, and Cecil Taylor.  Their music brings these cultural continuums into conversation with each other. Much of Teiku is about those odd, little gaps that can become bridges and help us understand other mediums, cultures, perceptions of the world and its inhabitants. These gaps becoming bridges are documented evolution. After all, it's paradoxically the friction between the different voices that helps it all come together.
Josh says, "When we play them [the ancestral melodies] live, we try to tell the story of the music." These melodies were a form of ritual and community in the Jewish-Ukranian villages, and so much of Creative Music and Jazz has historically functioned similarly in Black communities. To archive and preserve these melodies is not enough – Teiku makes new art for communities today (communities that have blurrier and more porous outlines) in hopes it will exist with the same purpose as it did back in the shtetls where their ancestors sang. The music is the sound of community in action and all of the inherent conflict, love, suffering, and tradition that entails; it is a sonic reflection; it is essential.
Teiku's midwestern tour begins June 15th at Constellation in Chicago. Highly recommended for all lovers of building bridges.
---
Izzy Yellen is a writer and musician.