· 4 min read
Postmodernism and Rosalía's Motomami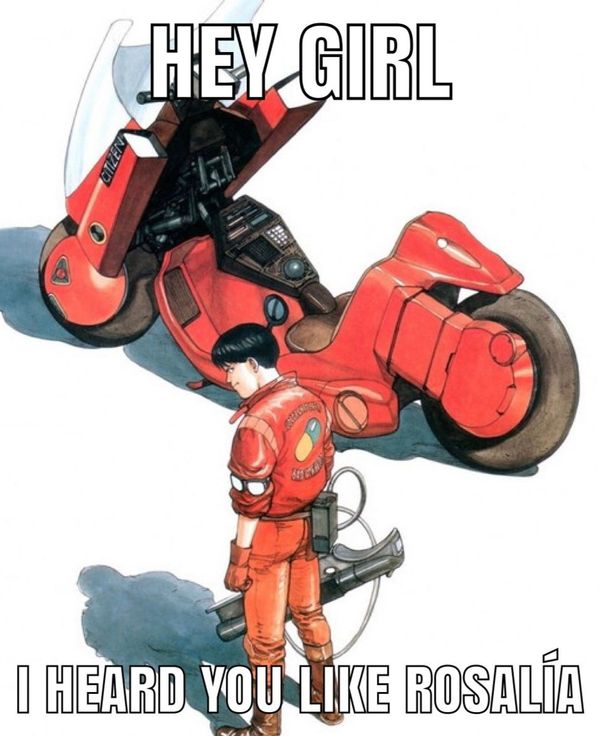 Written by Nico Daleman.
Already established as a leading figure in most Spanish-speaking countries, Rosalía's 2022 album Motomami was received with critical acclaim worldwide. However, critics and audiences alike have expressed discomfort with the album being labeled as "Latino Urbano", which developed into some accusations of cultural appropriation and exploitation of Latin identity to create a more marketable product. Conversely, I consider that Rosalía's presentation of reggaeton, and "Latinidad" make evident the complex political and racial dynamics of Latin American culture, which may be overlooked from an outsider's perspective. Indeed, one of Rosalía's boldest achievements is challenging the stereotypes of the global music industry and playing with the fluidity and hybridity of Latin identity.

Motomami's musical style is the consequent amalgamation of Rosalía's previous projects and presents an assortment of Latin genres such as Bachata, Bolero, Son Cubano, Dominican merengue and Brazilian samba, with Reggaeton and Flamenco as the most prominent. Following the success of her sophomore album, El Mal Querer, Rosalía worked with several artists from the Latino Urbano scene, such as J Balvin and Bad Bunny, bringing her closer to Latin-American musical genres. Rosalía's previous works demonstrate her knowledge and respect for the traditions of flamenco: a century old genre from the southern Iberia Peninsula that combines Christian, Jewish Ladino, Moorish and Roma influences, and is largely accepted as one of the symbols of Spanish national identity. On the other hand, Reggaeton is a much newer genre emerging from dancehall parties in the working-class neighborhoods of Puerto Rico, Panama, and Colombia. Older generations and conservative circles are still dismissive of the genre, pointing out its misogynist and xenophobic lyrics, explicit sexual content, and objectification of women. Instead of being the symbol of a particular national identity, reggaeton has become an insignia of a global Latinidad, while its original references to class struggles have been erased by the profit-driven music industry.

Consequently, reggaeton in Motomami is deprived of any agenda and rather appears both as an allusion to something playful, as well as a tool for a more radio-friendly product. Likewise, flamenco shows up as just another agent of a broader amalgam of genres; also decontextualized, reimagined, and even self-referenced. Motomami then mixes flamenco and reggaeton in a form of transcultural hybridity where Rosalía is successfully coalescing different cultures in order to create the soundtrack of a third space that transgresses cliches and boundaries. Like so, this turn towards postmodern aesthetics serves as a three-edged sword: to dodge accusations of cultural appropriation, to create a radio friendly product, and to position herself as an icon of high culture and good taste.

Artists such as Arca, Tomasa del Real, Calle 13, Kali Uchis and Bad Bunny, among many others, belong to current trend in Latin music (often referred Neo-Perreo) that recontextualizes the early ages of Reggaeton and presents it in a high-art environment. Motomami is just another example of this coming of age of Reggaeton, which is nothing more than a predictable process of nostalgic revival: Millennials who listened and danced to Reggaeton in their teens are now reevaluating their relationship with the genre as adults. Just as with Salsa Dura in the 70's or experimental hip-hop in the 90's, reggaeton is starting to be rethought and reappropriated as a symbol of sophistication. Likewise in Spain the trend of Nuevo Flamenco that has reimagined the genre since the 70's, has seen artists of younger generations such as La Mala Rodriguez and C-Tangana experiment with more contemporary genre bending and production techniques, also infusing an aura of nostalgia to it.

Conceptually, Motomami presents an eclectic, yet cohesive concept that holds together the album: motorbikes as symbol of empowerment, the playfulness and sensibility of femininity, and references to Japanese culture. Likewise, there is an ubiquitous element of self-referentiality to previous records, songs, and collaborations. Unlike the seriousness and almost kitchy-ness of El Mal Querer, Motomami's self-awareness is pure camp in all its delivery. And while the album touches on some politically relevant topics, it would be hard to argue that the album is trying to make a concrete political statement, if any. Rather, some political implications could be read from the particular approaches to the musical production techniques. For example, the insistence in minimalist production could be seen as a challenge to the overproduction that is quite common in reggaeton music—it gives the album a rawer feeling that makes some of her more affective lyrics come through, following example of albums such as Kanye West's Yeezus or Kendrick Lamar's DAMN.
This minimalism contrasts with the use of bricolage, sampling and vocal processing which is far more diverse and thought-provoking— it presents a maximalist palette of eclectic references, colorful quotes and ambiguous emotional stages that make the album both captivating and outlandish.

This deconstruction of Latin music is not necessarily the product of a musical project to advance reggaeton to unknown territories, but rather a very personal and authentic exploration of a multifaceted artist. The polystylism of songs like Saoko and CUUUUuuuuuute grabs the attention of the listener and takes them to an appealing reconsideration of reggaeton as a genre. Her radical disconnection with the context of reggaeton beyond party music is what makes its inclusion transgress cliches and boundaries, effectively appealing to high culture and academic circles. Even her references to female empowerment and to LGBTQ communities are tinged with a form detachment that presents her hedonistic and naïve persona. Ultimately, Motomami is a self-indulgent postmodern exercise in transcultural music making that it is both superficially authentic and deeply ironic.

While I consider that the trends of reevaluating and legitimizing reggaeton as a musical expression and as a symbol of Latinidad is a positive step forward towards the validation of the practices of their communities, there is some bittersweet taste in the way that Rosalía called attention to the genre. It took a heteronormative and attractive White European woman and the massive support of the global music industry to elevate reggaeton to a sophisticated status and sanitize it for the white audiences. And yet, what is more upsetting is not necessarily that Rosalía capitalizes on Latin-American culture, but rather that the term Latin is lazy and does not make justice to the complexity that the album presents. Thanks to its hybridity and mestizaje, Latin music has an immense potential for challenging political presumption and purist discourses. And Motomami is no exception.
---
Nico Daleman is a Colombian-born sound artist and musicologist based in Berlin.