· 5 min read
The End of Audio: Speculative Fiction on the Death and Rebirth of Organized Sound, Chapter 1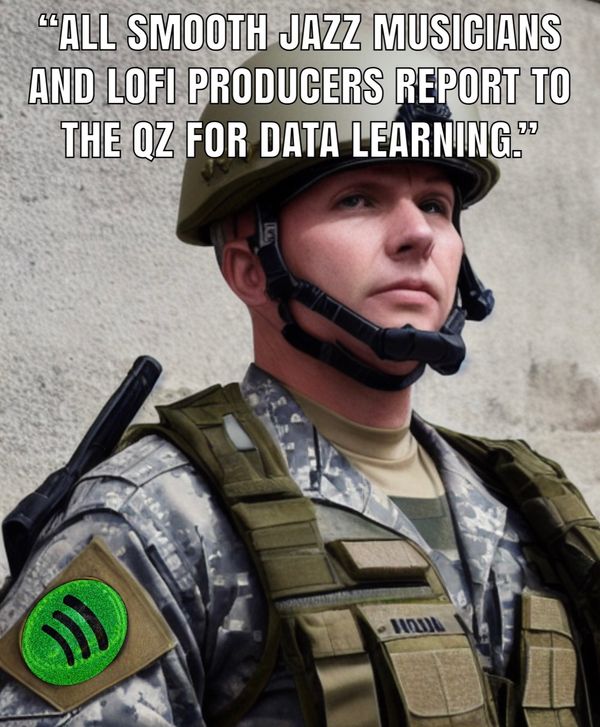 Written by Max Alper
Narrated by Neimah Djourabchi
The following is the first chapter in a series of speculative fiction bulletins and journals on the death and rebirth of organized sound.
BEGIN TRANSMISSION.

ARCHIVE 1:
UNIVERSAL MUSIC GROUP DEFENSE FORCE FOUND CONSTITUTIONAL BY SUPREME COURT RULING, TECH AND MEDIA LOBBYISTS CONTINUE TO PRESSURE CONGRESS TO ACT. The New York Times, March 28th, 2048.

WASHINGTON - It seems as though the efforts of Second Lieutenant Sven Johannes, a former marketing executive at a top Stockholm entertainment firm turned top brass of the Universal Music Group Defense Force (UMGDF), have finally paid off. Lt. Johannes has spent the last two weeks in Washington appealing to the highest levels of the American judicial systems in hopes of finding a constitutional loophole in defense of what many describe as street gang violence against the arts. At 11:05 AM on March 27th, the court ruled that the violence is justifiable under the definitions of the constitution regarding militias defending private property.

Meanwhile, as more and more record labels and music publishers get absorbed by venture capital conglomerates, corporate lobbyists from both the tech sector and the entertainment industry continue to pressure congress to sign off on the Act 4581, otherwise known as the "Weed Out the Noise" campaign, which would make the composition and production of new music illegal if not commissioned for data learning by a licensed artificial intelligence subsidiary.

Many in the American independent music industry have already fled to neighboring Canada, Mexico, or the Caribbean in hopes of starting pirate radio stations and deep web labels that could slide under the radars of an emboldened UMGDF. While for now many nations have remained neutral and decided not to allow the corporate militia to set up bases within their jurisdictions, it is worth noting that the UMGDF has approval for ground forces in 12 countries, including the U.S., U.K., Sweden, and Germany, all once major independent music hubs.

Others in the states, however, believe that the only way to resist the tech militia takeover of the music industry is to confront it head on in the streets.

Earlier this month, an anonymously leaked video was uploaded to Youtube on an account many believe to be run by the Musicians for Freedom (MFF). Established in 2020 as an alternative to the long viewed compromised Federation of American Musicians (FAM), MFF has in the last decade been labeled by many as a terrorist organization known for the Spotify Office Bombings of 2041. In the video, a masked individual with an altered voice speaks directly to the camera and says the following:

"American musicians, sound artists, DJs, and lovers of recorded sound, the cavalry isn't coming to help you. It is up to you to defend your art by any means necessary."

The camera then zooms out to show a group of 5 masked individuals, all armed with various assault rifles, sticking their middle fingers up towards the camera. The video cuts to a GIF of a burning UMGDF flag while abrasive hyperpop plays to fade out. As of the time of writing, no official statement has been made by MFF, but national security experts say the public needs to prepare itself for more acts of violent sabotage against streaming and artificial intelligence infrastructure.

In a press conference early this morning, Lt. Johannes made clear that the UMGDF does not take threats lightly, nor do they expect the MFF to succeed in any future actions.

"The MFF and their followers are nothing more than free jazz drummers and modular synth enthusiast pests who could never sell a record in their life even if they tried. They resort to violence as an act of desperation, but nevertheless we of course have the means to exterminate any pests that infest our jurisdiction. We seek to purify the sound of America by ridding it of such distractions, and thanks to our efforts in Congress, we've been given the green light to do so."

ARCHIVE 2:
NOTE FOUND IN THE CELL OF PRISONER28471 IN AUDIO PANOPTICON DATA CENTER, META REALITY LABS, 1 HACKER WAY, MENLO PARK, CA. WRITTEN SOMETIME IN 2059.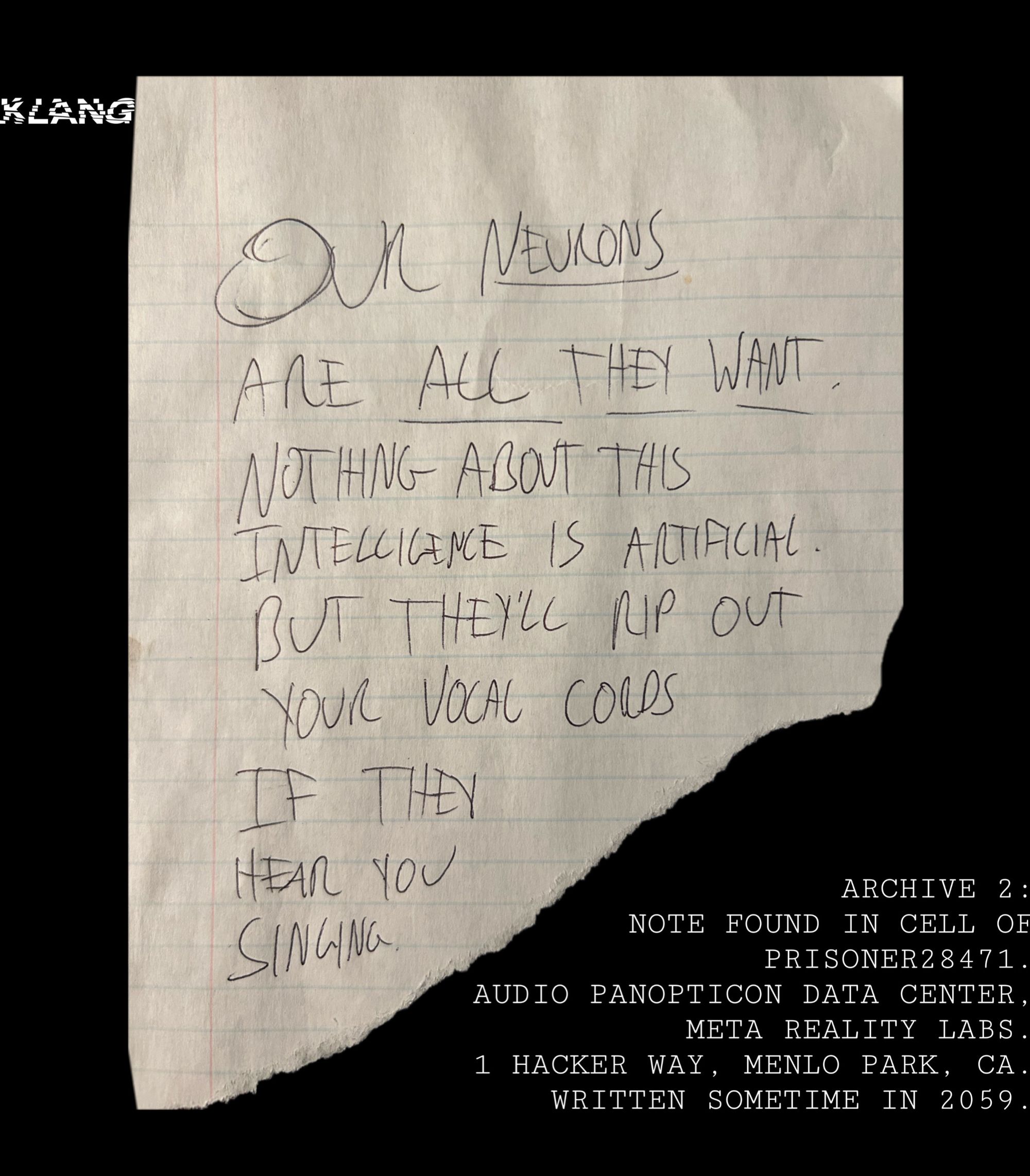 "Our neurons are all they need to make tracks, nothing about this intelligence is artificial. But they'll rip out your vocal cords if they hear you singing."

ARCHIVE 3:
ANONYMOUS JOURNAL ENTRY DISCOVERED IN RUINS OF ABANDONED SHANTY TOWN OUTSIDE WHAT WAS ONCE CALLED AUSTIN, TEXAS, ESTIMATED TO HAVE BEEN WRITTEN SOMETIME BETWEEN 2070 AND 2072.

I found something today while working the mill. My uncle said the Datas will kill me if they see me with it. He called it a Casio, and said if I can find a way to power it, it can make electronic sounds that I can control in time. It's covered in black and white buttons of two different shapes in rows, when I press it I can hear the click of the warped plastic touch the bottom of the slot.

What did he mean when he said I can control electronic sounds in time? The only sounds we hear now are the constant winds in the face of neverending dust, the generator creaking and humming, and the occasional gun shot. We only talk when we have the strength after work. I'll be 14 soon, I've never heard anything else.

—--

Uncle cleaned the hardened acid off 4 AA batteries he found in a shed behind one of the Data checkpoints. He said he wanted to surprise me for my birthday, though I don't actually know when that is. He said they probably won't work considering how old they are, but that they might be able to turn the Casio on. They smelled like rust and started to burn my hands the longer I held them. He said I needed to put them in the bottom of the Casio in reverse plus and minus order, which didn't make any sense.

I opened the back of the machine, placed the batteries in their slots, closed my eyes, and turned on the power switch. I hear a popping sound and open my eyes. A red light appeared in the top left corner, just beneath where it says Casio. I put my ear up to the machine, it hummed lightly as if there was an ocean inside of it.

—---

I have been too scared to take the Casio out again ever since I was able to turn it on, but the temptation to know what it is really for is starting to get to me. Why did Uncle say they'd hunt me down for it?

I decided I would take it with me to the outhouse late at night when everyone was asleep. I squatted over the hole and turned the power switch on for a second time, the faint red glowing on the floor. I made out two words next to one of the buttons, "bossa" and "nova", the only words I could make out in the dark next to the light of the power switch. I press the button.

The sound nearly made me fall into the shithole. It croaked like some dying animal, but beneath the electrical static there was a pattern of sound. Bah, bah, bah bah, bah, bah, bah bah, bah. I put my ear up to the Casio as the red light began to flicker. Bah, bah, bah bah, bah, bah, bah bah, bah. What is this I am hearing? It somehow energizes my emotions, I can't help my tap my toe to the pattern in the static. Bah, bah, bah bah, bah, bah, bah bah, bah. What didn't they tell me, is this controlling electronic sound in time? This "Bossa Nova"? Bah, bah, bah bah, bah, bah, bah bah.

I hear yelling back in the barra…


END TRANSMISSION.